About Sumbhaav School of Kathak Dance
Formerly known as India Performing Arts Center (established in 1990), The Sumbhaav School of Kathak Dance offers comprehensive training in Kathak under the direction of Rachna Ramya. Classes are offered in Connecticut's Hartford, Norwalk, Newington, and Stamford areas.
The Sumbhaav School of Kathak Dance takes its name from Sanskrit. The sum is the first beat of a rhythmic cycle. Because of its importance, many musicians and dancers consider it God-like. Bhaav refers to expressions and intention according to the "Natyashastra," the ancient Indian doctrine on dramatic and performing arts. The name also comes from the "Nishkam Karma Theory," referring to the calm that comes from the ability to observe impartially. The power to observe with detachment brings peace and balance.

Sumbhaav School of Kathak Dance takes pride in offering in-depth knowledge in the Jaipur and Lucknow styles of Kathak. Rachna follows the teaching techniques of her gurus, the great maestros of Kathak Guru Rajendra Gangani, Smt. Maya Rao and Smt. Sandhya Desai.
Particular emphasis is given to techniques such as Tatkar (footwork), Chakkaras (pirouettes), Padhant (vocalization), Lay and Tal (rhythm, tempo, and rhythmic cycles), Kathak repertoire, Abhinaya (expressive aspects), Sanrachna (choreography) to create and communicate meaning through this compelling dance form. In addition, Sumbhaav provides thorough knowledge of Kathak's theory. We also offer examinations for students interested in receiving diplomas in Kathak.

Another focus of Sumbhaav is bringing out the artistic side of each student. When students finish their basic training—in which they learn the technicalities of dance, performance skills, and kinesthetic intelligence—they develop skills such as self-expression, self-esteem, and self-respect. Many students who have studied Kathak at Sumbhaav have attested to the fact that this class has enhanced their lives in a very creative way. They also have learned many life skills such as problem-solving, appreciation of self, respecting themselves and others, stress management, etc.

The students of Sumbhaav are regularly invited to perform at various events in Connecticut and are appreciated and commended for their Kathak performances. Many past students of Sumbhaav teach and perform Kathak in various parts of the USA.
We also provide need-based scholarships for the students.
~~~ Sumbhaav offers three core programs ~~~
The beginner coursework takes about two years to finish. Beginner students focus on learning and developing the basic techniques of Kathak, such as Tatkar, Chakkars, Ang, Lay, and Tal. They are also introduced to the basic repertoire of Kathak and are expected to use it to strengthen their basic skills in the dance form. The age group in this class ranges from 6 to 12 years old.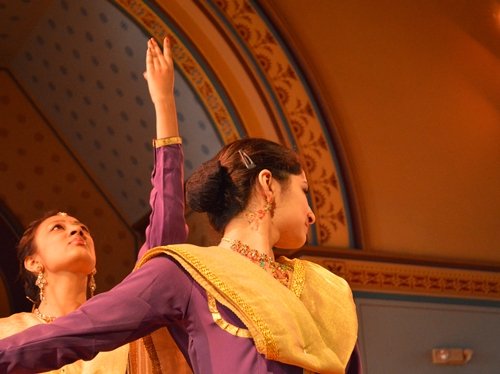 Students who have completed their beginner Kathak techniques may move to this level. Intermediate students are given a more complicated repertoire. They are expected to perform this material in different Tals. The intermediate level also increasingly focuses on expression and artistry.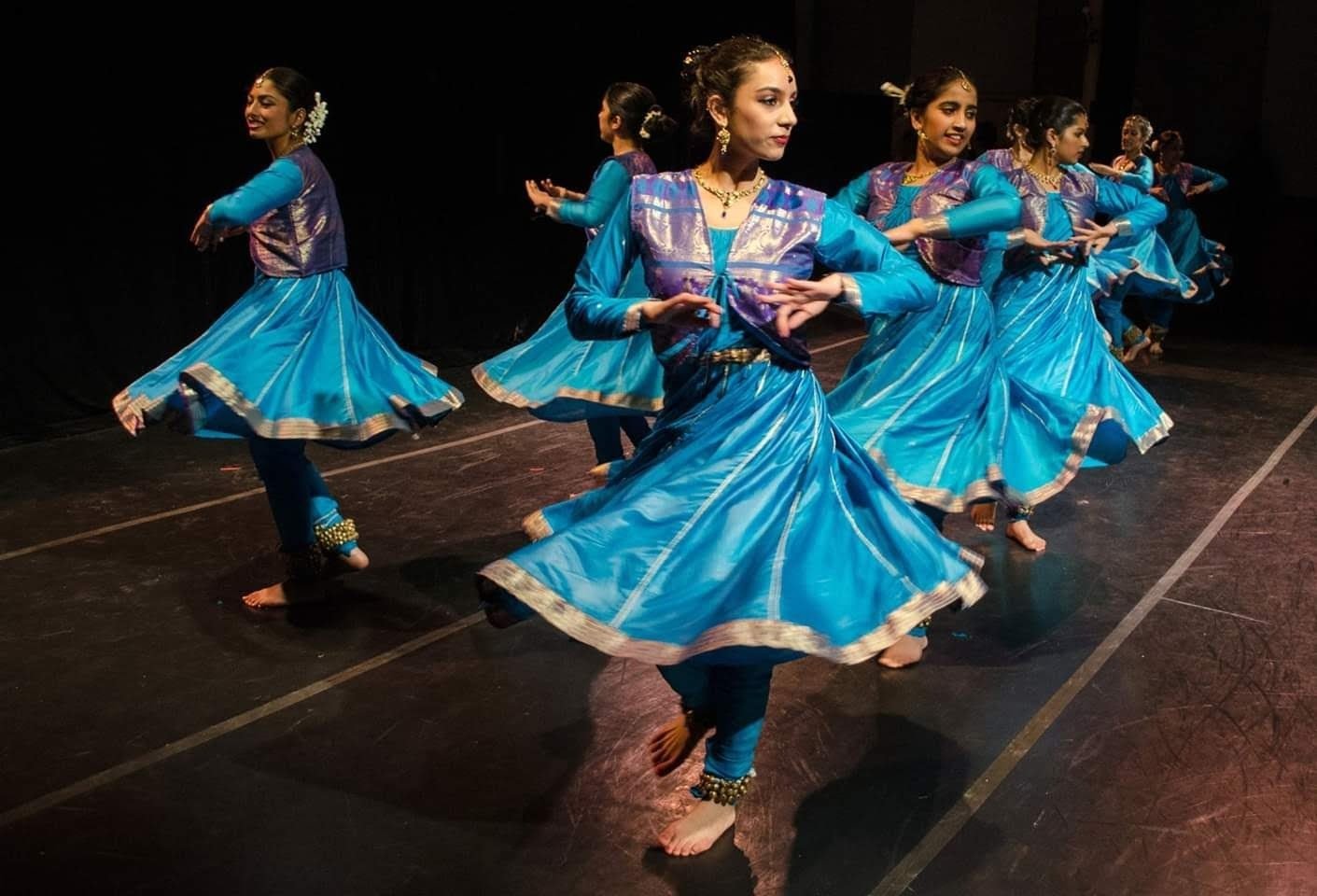 Students who have finished their Beginner and Intermediate studies will be invited to join the Advanced Class. These students are given the most advanced repertoire and pieces such as Tarana, Thumri, Bhajan, etc. They also work on performance skills and are given the most opportunities to perform at prestigious venues.
Sumbhaav also arranges for students to visit India and study with Rachna's gurus. Many students of Sumbhaav have taken this opportunity to gain experience in the field of Kathak in a more immersive manner.
Sumbhaav also conducts yearly Kathak exams for the students. Sumbhaav's students are invited to perform all over the State of CT.
The Fall session: September to December

The Winter session: January till March

The Spring Session: April till June

The Spring session culminates with a Student's Recital, where all students from all locations perform together.
Workshops and Past Concerts Organized by Sumbhaav
Sumbhaav has conducted workshops and programs for its students with the following great masters and artists of India.
Pt. Rajendra Gangani (Kathak workshop)
Pt. Birju Maharaj and Vidushi Saswati Sen (Kathak workshop)
Pt. Subhankar Banerjee (Laya and Tal workshop)
Vidushi Sandhya Desai (Kathak workshop)
Ishira Parikh (Kathak workshop)
Sumbhaav school of Kathak Dance has been graced by the performances of the stalwarts of classical Indian musicians, Pt. Dhruba Ghosh (Sarangi), Smt. Lakshmi Shankar (Hindustani classical vocalist), Pt. Atul Desai (Hindustani classical vocalist) and Pt. Subhankar Banerjee (Tabla), Pt. Debashish Bhattacharya.
We are looking forward to many more workshops and concerts in the future.
February 25th:  Dancing Petal (Chicago Kathak Institute), Kathak workshop with Rachna Ramya
April 23rd and 24th: Ballet Theater Company's production "Aladdin". Rachna Ramya's performance as Aladdin's mother.
June 12th:  Student Recital of Sumbhaav
June 25th: Kathak Rangmanch Pravesh by Shruti Kelkar, student of Rachna Ramya
June 26th: Stamford Town center Music and Dance Festival.
September 18th: Milan Cultural Association, Kathak performance by Manasvi Hegde (the student of Sumbhaav)
September 22nd: Sharing the Stage: Incorporating Dance Traditions within Ballet, Trinity College, Panel discussion Eric Galm, Stephani Datellas, Rachna Ramya, Julie Lie
October 9th:  Hindu Cultural Center, Kathak performance by Tanisha Chaturvedi (the student of Sumbhaav)
October 15th: JCC Mandell, Vijaya, a full-length production choreographed by Rachna Ramya, Aishwarya Chakravarthy, and Sarada Nori, for the Banerjee Foundation for Education
October 22nd: Vallabhdham, Kathak performance by Vani Sundar (the student of Sumbhaav)
October 29th: Hartford Public Library, Kathak performance by Divija Adhikary (the student of Sumbhaav)
October 29th: Rocky Hill Historical Society: Kathak performance by the students of Sumbhaav
November 20th: Vijaya, for the organization "Power of Peace."
To Book School Performances & Workshops OR
To Join Sumbahaav School of Kathak Dance